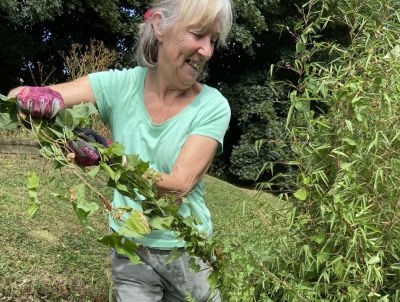 Gail Coleshill
Summer gardens' update from Midsomer Norton Station
A date for your diaries: Tuesday, August 23rd - Open Garden Morning from 10:30am 'til 12:30 - see below for more!
In spite of no rain for weeks the gardens are thriving at Midsomer Norton Heritage Railway Station but unfortunately the nuisance weeds are also thriving. Bindweed and brambles are particularly annoying as they upset the cultivated flowers. Much of the approach to control has been to pull out bindweed as can be seen in this photo of Gail in the front border.
The gardeners encourage many wild flowers especially in the meadow area where wild Orchids have also been seen but control is needed to maintain a pleasing scene as a backdrop for the interesting trains and coaches. The cottage garden approach gives lovely borders of colourful flowers with great insect attracting scope and the gardeners enjoy adding to and weeding round the existing beds.
Volunteer gardeners work at the station on a Tuesday and would welcome more people to join them.
Head of Gardens Gail Coleshill would be thrilled to meet people with an interest in volunteering in the gardens and she added the following:
"Please join us for our open garden morning on Tuesday 23rd August from 10.30 to 12.30. We would love to show you around. Come to the station and meet the friendly gardening gang over a cup of tea and maybe even biscuits.
We are lucky to have such an extensive garden area at the station and we have worked hard to produce a variety of different gardens here but we do need some extra help.
We welcome new local recruits and can provide training in garden skills although no skill is involved in pulling out the strangling bindweed."
Published By:
Patrick Stevenson 4th August, 2022