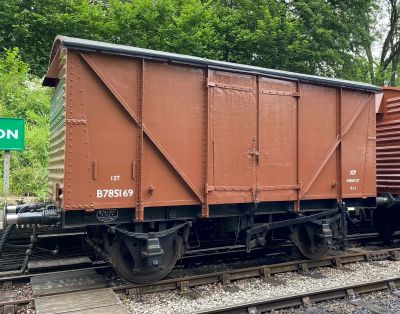 Matthew Harris
BR Box Van B785169
Previously Army number WG4169 this is 4 wheeled ventilated Box Van. Many of this type of wagon were built, this example was built by BR Derby Works to diagram 1/208 in Lot number 3398 in 1961.
There has been no information forthcoming on its Lot number, when built or indeed whether it was even owned by BR.
There has been extensive repaneling of one of the sides and the associated set of doors over recent months.
To enable it to look prototypical in demonstration S&D freight trains, following some research the Trust has decided to renumber it within a range that was used by BR for this vehicle diagram and retaining its last 3 digits from its Army number.
This vehicle was one of the first arrivals on the S&D since the track was removed from the station in 1969 and was transported from Yeovil in 2005. It is owned by the Somerset & Dorset Railway Heritage Trust.