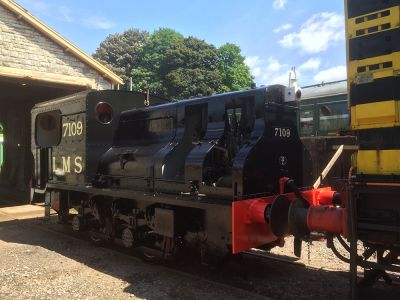 Sentinel Steam locomotive 7109 'Joyce'
Joyce, works number 7109, was Manufactured by the Sentinel Wagon Works at Shrewsbury in 1927, she is a balanced, double-engined, and single-geared, industrial steam locomotive.
Weighing 28 tons, it is a steam locomotive with a pair of transverse engines at the front and a vertical water-tube boiler at the rear in the cab. It uses both gears and chains to transfer the drive to the axles.
7109 was the first of eight pre-war locomotives of this type. Two were subsequently purchased for the Somerset & Dorset Joint Railway Company for use at Radstock numbered by the LMS as 7190 and 7191 and latterly by BR as 47190 and 47191.
Sentinel 7109 was bought in 1928 for use in Croydon Gasworks and operated there for or 32 years until 1960. It was named 'Joyce' after the daughter of Mr Sandeman, the chairman of the works company.
It arrived at Midsomer Norton in 2004 and its restoration to full working order was led by its owner Andy Chapman.
There are a number of detail differences between 7109 and the Radstock Sentinels including the latter having a lower cab with square windows and oval rather than the round buffers fitted to Joyce.