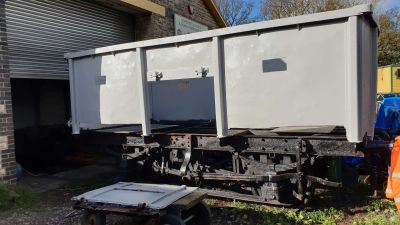 Barrie Papworth
BR Mineral Wagon B577004
This 16T Mineral Wagon was built by Pressed Steel in 1957 to diagram 1/108 in Lot number 2922.
It was purchased by the Somerset & Dorset Railway Heritage Trust as wagons of this type represents those that were seen on the S&D for decades moving coal from the Somerset coalfields including nearby Norton Hill colliery. Previously at the Swanage Railway Trust, it was moved to Midsomer Norton in 2020.
It was in poor condition but is now in now an advanced state of restoration after only a few months since its arrival. It is fitted with vacuum brakes.
The primary aim with this vehicle is to use it in demonstration freight trains including photo charters.