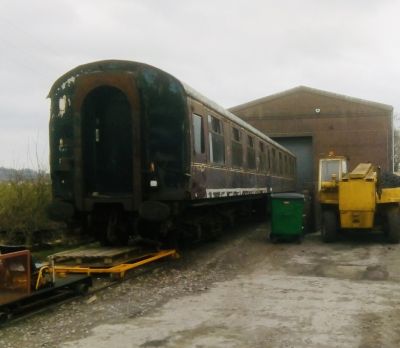 Barrie Papworth
BR Mk1 SK (Corridor Second) M25572
BR Mk1 SK (Corridor Second) M25572 (other numbers = W18572; current number = W18572).
Built by BR Wolverton in 1958 to Diagram 146, Lot 30426. Entered service on BR's London Midland Region and remained there until late 1980 when it was transferred to the Western Region before final withdrawal in August 1983.
Following purchase for preservation it ran for many years on the Bodmin and Wenford Railway before being sold to a private individual in 2016 who moved it for storage at the East Somerset Railway.
The Trust purchased M25572 in May 2020 with the aim of adapting it at one end as a multi-user vehicle similar to that which has been undertaken on other Heritage Railways. As well as this conversion it requires bodywork repairs for which the Trust has obtained a comprehensive quotation.
In April 2021 the asbestos sheets located behind and below heaters were removed by an approved contractor.
If you would like to donate to the restoration of this coach please go to our website
Donate Here