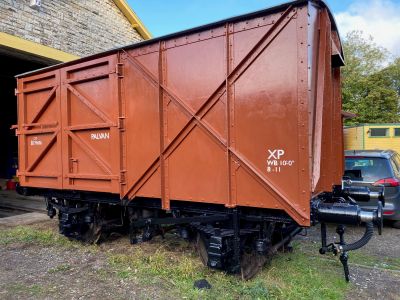 Matthew Harris
BR PalVan B779696
This 12T PalVan was built by British Railways at their Faverdale Works, Darlington in 1958 to diagram 1/211 in Lot number 3118.
PalVans were seen in mixed goods trains working over the S&D
It was kindly donated by the Swanage Railway to the Somerset & Dorset Railway Heritage Trust in 2019 and was moved to Midsomer Norton in 2020.
It was in poor condition when it arrived but is now in now an advanced state of restoration, only a few months since it arrived. It is fitted with vacuum brakes. This vehicle will use in demonstration freight trains including photo charters and by the Permanent Way department in works trains.