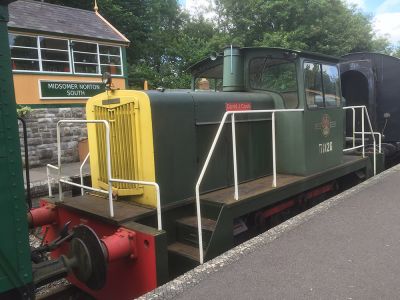 English Electric Type DH648A- 60 diesel hydraulic shunter D1120
This locomotive was built by the English Electric Company in 1966 at their Vulcan Works Newton le Willows. This is the same works where many mainline diesel locomotives for British Railways were built including the Class 40 and the class 55 Deltic's were constructed. The manufacturer referred to this type as the Stephenson range of locomotive. D1120 was delivered new to the National Coal Board's Lea Hall Colliery near Rugeley in Staffordshire where it received the running number 63.000.305. The D1120 number it carries now comes from its works number D1120/1966.
It is fitted with a Dorman type 6QT engine producing 380 horsepower which drives a Twin Disc CF1150 torque convertor and a RF11 final drive unit.
D1120 weighs 45 tons and has a top speed of 17 miles per hour. It carries 285 gallons of diesel fuel.
It worked at Lea Hall colliery until the pit closed in 1991. Here it was used to shunt coal wagons in the interchange sidings next to the BR line. Sometime later it was purchased for preservation by the Somerset & Dorset Locomotive Company based in the old goods yard adjacent to Yeovil Junction Station on the West of England line from Waterloo.
In 2003 a group of S & D Railway Heritage Trust members clubbed together sufficient funds and purchased the locomotive. It was transferred to Midsomer Norton on 19th September that year.
Whilst in use at the colliery it was painted in a light blue but in preservation, it received a light Prussian blue livery with an S & D crest cab side along with the number 10.
In this guise, it became the first standard gauge locomotive to operate on the Somerset & Dorset at Midsomer Norton since the final demolition train hauled by D3506 (TOPS number 08391) on the 15 July 1968.
Then at the August 2004 Open Weekend it was named in honour of the late David J. Cook by his widow Ann. David was one of the earliest volunteers who help establish the restoration of Midsomer Norton Station in the mid-1990's.
Some four years later with the paintwork looking a little shabby it was decided to repaint the locomotive in a two-tone green livery similar to that applied to the BR Class 14 D95XX diesel hydraulics built at Swindon Works in the mid-1960's representatives were seen at Bath Green Park Midlands Goods Yard.
D1120 is currently at the Rowsley workshops of Pete Briddon where it is being fitted with a vacuum brake system to enable it to work passenger trains.