/
/
/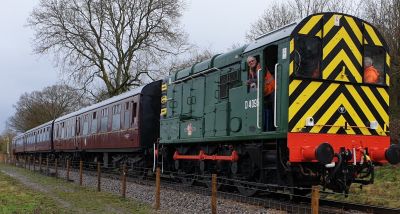 D4095
D4095 was built in 1961 and was one of a class of 1,193 diesel shunting locomotives built of class 08, 09 and 10.
The locomotive spent its entire working life in Scotland until withdrawn in February 2004 and placed into storage. Purchased in April 2007 and initially based at the Gloucester Warwickshire Railway apart for a short period of contract hire to the LaFarge Quarry at Mountsorrel in 2008.
In May 2011 it was offered for sale and following a period of repairs at the GWR it was purchased by the S&DRHT in January 2012.
In December 2013, it returned back to the GWR for a short period of hire due to that railway being short on shunting locomotives. D4095 then returned back to the S&D in March 2014 and has been resident here ever since.
Since its return, it has now been retrofitted with vacuum brake equipment.