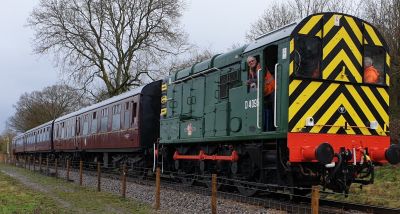 British Railways Class 08 diesel electric shunter D4095
Built at British Railways' Horwich Works and completed in August in 1961, D4095 is a representative of the largest fleet of diesel locomotives ever constructed in this country, with a total of 1,193 built between October 1952 and August 1962. It's fitted with an English Electric 350 horsepower engine.
Its first shed at Fort William (code 63B) but For most of the 1960s it was allocated to Inverness shed (60A) but from January 1969 it spent periods at, Perth (63A) / Eastfield (Glasgow) (65A) / Dundee West (62B) / Haymarket (Edinburgh) (HA / Glasgow's Springburn Works and finally Ayr from where it was withdrawn in February 2004 and subsequently stored at Motherwell depot.
In September 1974 it was renumbered under the BR TOPS system to 08881, by which time it had been repainted into corporate blue livery and fitted with train air brakes to supplement the vacuum equipment fitted when built.
The locomotive was purchased from Motherwell depot for preservation in April 2007. The following year it was at the Gloucestershire & Warwickshire Railway (GWR), resplendent in its original 1960s BR Green renumbered back to D4095. Following its operation at the GWR over the spring/summer period it was transported by road to LaFarge Quarry sidings at Mountsorrel near Loughborough in early October 2008. After this short-term contract hire finished around mid-December it returned to the GWR.
In January 2012 it was bought by S&DRHT members through an appeal and moved to Midsomer Norton that month. A temporary return to the GWR took place in early December 2013 for an initial two-month loan, as it was believed that the Cotswold railway was short of locomotives to undertake shunting. D4095 came back to the S&D in March 2014. Since then it has been regularly maintained, had repairs carried out to keep it in traffic, and been retro-fitted with vacuum brake equipment.
As is well known the S&D was worked almost exclusively by steam locomotives up to March 1966, apart from the occasional DMU tour prior to closure, and diesel-hauled tours and freight services on goods-only sections thereafter. The sort of shunting duties that D4095 was designed for were undertaken on the S&D by ex-LMS 3F tank engines such as No.47406, as used at MSN in 2016 and 2018. At Radstock, shunting was shared with the 3F's by two Sentinel steam locomotives similar to 7109. Post closure of the S&D to passenger services Class 08 shunters were based at Radstock for hauling coal wagon and demolition trains.
D4095 has redeemed to some extent the reputation of its class on the S&D by hauling construction works trains rather than demolition ones, as well as operating passenger services to bring income to a part of the revitalised S&D.