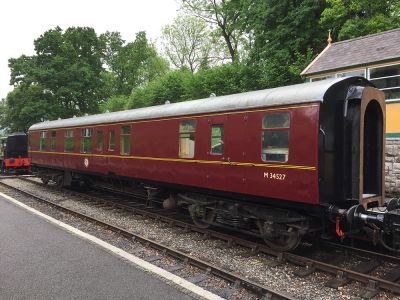 BR Mk1 BSK ( Brake Second Corridor ) M34527
Built by BR Wolverton in 1955 to Diagram 181, Lot 30095. Withdrawn from passenger service in early 1978 after being allocated to the London Midland Region of BR. It was converted by BR to re-railing generator coach / tool van for use in Tinsley Depot's breakdown train. Some doors and windows were removed and others modified. It was painted in yellow livery and renumbered ADB975470.
Tinsley Depot was closed in 1998 and around the same time this former BSK was moved to the Churnet Valley Railway and used as a mobile mess room.
It was purchased by S&DRHT towards the end of 2004 and by the May of the following year, it had moved to Midsomer Norton.
It was decided to have some internal work undertaken back at the Churnet Valley where it arrived in November 2009 for conversion. It was returned to Midsomer Norton in May 2015.
Subsequent work at Cranmore Train Maintenance Services has seen both end gangways refitted that were removed by BR when converted for breakdown train use. The vehicle has now been fully rebuilt back to a passenger-carrying BSK. This has included the complete reupholstering of the seats in 1950's moquette and working lights. The vehicle has had all safety examinations completed successfully and is now in service.
The only major work left is the reinstatement of the steam heating pipework and associated fittings
Vehicles of this type were used extensively in trains over the S&D during the 1950/60's in both local and through holiday trains including the famous Pines Express. The separate compartments linked by a corridor down one side on this vehicle is an arrangement no longer seen on modern trains.