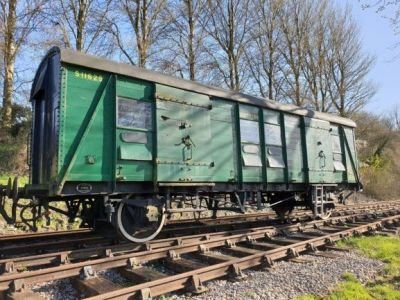 Southern Railway S1162S PMV
This parcels and miscellaneous vehicle was built at Ashford by the Southern Railway in 1936 to vehicle diagram 3103 Lot 824.
It was purchased in 1990 from BR at New Cross and was initially moved to the Avon Valley Railway at Bitton. The original intention by the private owner was to then move the vehicle to the Swanage Railway. Due to a lack of room, it was decided to bring the vehicle to Midsomer Norton on indefinite loan.
It is used by the Permanent Way team and has been used during the track extension work but could be used in demonstration parcels trains along with the CCT and BSK