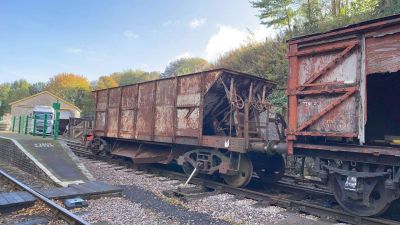 Mike Abbott
SR Walrus DS62070
This 20T ballast hopper was built by Southern Railway at their Ashford Works in 1958 to diagram 1775 in Lot number 3327.
It was kindly donated by the Swanage Railway Trust to the Somerset & Dorset Railway Heritage Trust in 2019 and was moved to Midsomer Norton in 2020.
It was in average condition but is now in now an advanced state of restoration after only a few months since it arrived. It is fitted with vacuum brakes.
Following repairs it will be used by the Permanent Way department to store ballast and when required to lay ballast along the line.