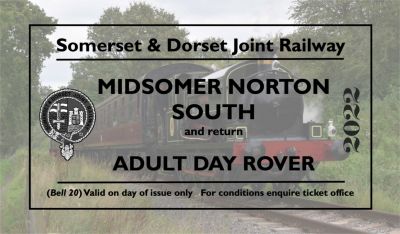 2022 Train Services & Special Events - tickets now available - All Day Rovers are back!
We are very pleased to announce that our 2022 operating season on the S&D at Midsomer Norton will start on Saturday, April 2nd. This will be our first full year schedule since 2019 and we have lots planned through the Spring & Summer and into the Autumn. As in previous years the finale will be our series of Santa specials in December followed by a Mince Pie Special on New Years Day.
Check out our various experiences at Midsomer Norton including our Spring Gala and Easter at the Station events in April, Jubilee Street Party in June, Midsomer Cream Teas, Wickham Trolley rides on selective Wednesdays and much more. An addition for this year is the provision of a DMU service using our newly acquired 2 car set that arrives from the Avon Valley Railway in March.
For 2022 we're bringing back All Day Rover tickets for our Steam & Diesel Services and for most Special Events. These are flexible and excellent value as you can travel on any or all of the trains running on the day you choose. Maybe take a ride up the line in the morning, have a look round the site and visit the shop, museums, buffet and our intriguing new S&D secondhand emporium (next to the buffet); then have another trip up the line in the afternoon. Click here to go our Events pages to see more details of what's going on throughout the year.
Click Here to Buy Tickets
Published By:
Somerset & Dorset Railway Heritage Trust 18th February, 2022