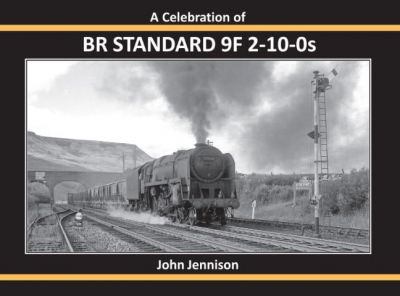 Irwell Press
A Celebration of BR Standard 9F 2-10-0s
A Celebration of BR Standard 9F 2-10-0s £28.95 with free postage
Also available from our station shop at Midsomer Norton which is open on most train operating days
This book features top quality photographs reproduced at the largest possible size to celebrate these fine locomotives and includes an ex works image of our very own 9F no. 92207
Full-page shots are presented in a landscape format and are backed up by detailed captions.
The pictures have been selected from the collections of Rail-Online and Brian Stephenson's Rail Archive Stephenson.
After an inauspicious start on the Western Region, the 9F 2-10-0s came to be regarded as one of the best designs to run in Britain – fittingly for the last main line steam engines built by British Railways and celebrated by the naming of the very last one, EVENING STAR. They accounted for a quarter of all the BR Standard engines but unfortunately came much too late in the day with an average service life of less than ten years.
The 9Fs were divided between the Western, London Midland and Eastern Regions with ten specially modified ones provided for the North Eastern Region.
The emphasis throughout the book is on the engines in service and, apart from the first two sections which cover their introduction and principal developments including the ill-fated experiment with Crosti boilers, the book has been arranged in chapters showing the engines at work over the principal routes where they were used.
The 9Fs both looked and were impressive and unlike most freight classes, they attracted the attention of railway photographers who captured some superb pictures of them. These included the famous 'Windcutters' on the former Great Central between Annesley and Woodford Halse, the Tyne Dock-Consett iron ore trains and the Long Meg-Widnes anhydrite hopper trains over the Settle & Carlisle – even summer Saturday relief passenger trains, including the finale of through workings over the Somerset & Dorset.
Author: Jon Jennison
Published By:
Somerset & Dorset Railway Heritage Trust 10th March, 2023