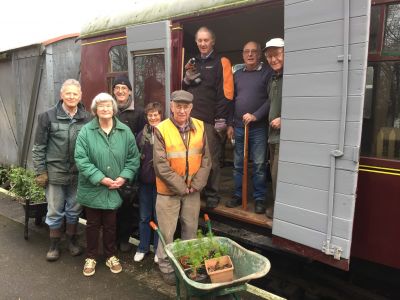 Another Year Begins at the Station
More track laid by volunteers at Midsomer Norton Station has increased the length of running line by 50%. This means that visitors will soon be able to travel almost up to the Chilcompton tunnel by train. The Spring Gala event in March will be an opportunity to ride behind a Jinty tank engine from the Great Central Railway.
Jintys used to be the workhorses on the old Somerset and Dorset Railway. Shunting the yard at Radstock and then bringing empty coal wagons up to Norton Hill pit, shunting the yard here and then returning to Radstock with full coal wagons would be a typical day's work for such a locomotive. Five locos were built specifically for the S&DJR by Bagnalls of Stafford in 1929 but paid- for by the Midland Railway and numbered in the S&D listing 19 -24.
Volunteers are busy making sure that visitors have an all round experience when they visit the station for special events like the Spring Gala. As well as the special events the station is open on Sundays and Mondays for volunteers to work but with the shop, buffet car, and Museum also open to the public. The Railway welcomes men and women of all ages from teens to eighties to join their volunteers, especially if they are local.
Posing for our photo from the left are John and Tony and Kirsteen who work in the garden. Linda in the front is found in the gift and railwayana shop, Doug with the wheelbarrow is a gardener then at the back is Keith, a painter and carpenter, then Barry and Rich on the back right are helping to renovate the Midland coach in which they are standing.
For more details about Midsomer Norton Station volunteers call 01761 411221, drop in on a Sunday or Monday
THE S&D REBORN DVD
Available to buy at the station and online here.
Published By:
Somerset & Dorset Railway Heritage Trust 31st January, 2018