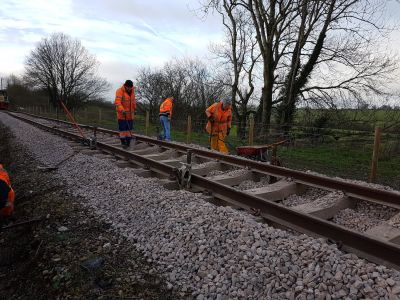 Ballast Appeal
The Somerset & Dorset Railway Heritage Trust has now reached a historic milestone of laying the final lengths of rail and sleepers to the base of the in-filled cutting, one mile South of Midsomer Norton Station. After many weekends of hard work, the Track Laying team moved the final 60ft rails into place over the weekend of the 28th October onto the original railway trackbed. The Trust are aiming to open the final part of their southward extension in Spring 2019, which will see a full mile of former Somerset & Dorset Railway being brought back into use.
The task is not yet complete with more hard work required to drop over 400 tons of ballast and jack & pack the track before passenger trains can run on the line. The Trust are appealing for donations to their "£20 for a Ton' fund-raising campaign, where the public can make donations towards the purchase of the ballast required. Donations can be made in person at the station, or via the Trust's website. All persons donating are encouraged to complete a Gift Aid form to make their donation go even further. www.sdjr.co.uk/fundraising
Thank you for your continued support.
Published By:
Somerset & Dorset Railway Heritage Trust 14th January, 2019