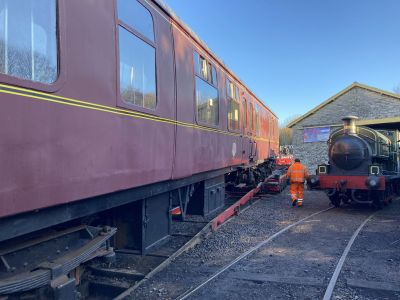 Graham Findley
A third cosy carriage back in time for Santa trains
Thanks to a superb job done at very short notice by our very good friends at Cranmore Train Care and funded by a generous supporter of our railway, we now have three fully heated carriages available for our hugely popular Santa Experience events in December.
Our Mark 1 BSK (Brake Second Corridor) coach returned from Cranmore on November 24th on schedule and with new steam heating installed - it was off loaded onto S&D metals on the following morning so in good time to keep visitors warm on our Santa trains in December.
The original steam heating was completely removed by British Railways when the carriage was converted to a departmental vehicle at Stratford Works in London. The system on these coaches uses steam that is supplied from the steam locomotive boiler and is piped through flexible hoses between vehicles and into the pipework and heaters on the carriage. None of the pipework, heaters and fittings including the cocks and hoses were retained. The main supply pipe has to be secured to the underframe with smaller pipes connected to it feeding each compartment heater of which there is one located under the two seats therein (see gallery picture). An additional heater is provided in the Guards compartment and Cranmore sourced this rare item and have fully plumbed it in.
Fitting of the new pipework system required the vehicle to be lifted off its bogies to get access to the vehicle underframe. It was not feasible to carry out this work at Midsomer Norton so following a generous donation it was agreed that the work would be carried out at the East Somerset Railway at Cranmore who have the specialist facilities.

Re-installing steam heating to Mk 1 BSK coach - Cranmore, November 2021
Published By:
Patrick Stevenson 25th November, 2021