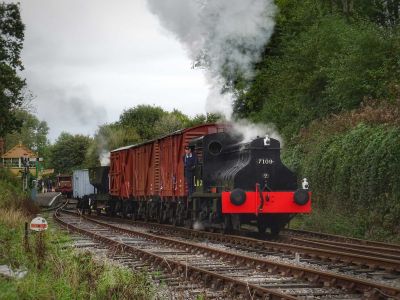 Callum Willcox
Busy week on the S&D starts with 3 day Gala
The last week of October is proving very busy at Midsomer Norton starting on Friday 22nd with our 'End of Season Gala' which ran over 3 days. Friday 22nd saw newly repainted Class 03 D2128 and Class 08 D4095 in action hauling passenger and freight trains. Saturday 23rd and Sunday 24th were a lot busier with passenger trains, freight trains and shunting demonstrations in the yard and all 4 locomotives in action! Visiting loco 5459 Austin 1 performed well throughout the whole event and was very popular with visitors including a lot of enthusiasts and families. It seems Austin 1 is becoming a favourite with local families with many revisiting to get another look!
7109 Joyce had an interesting gala and was seen mostly on the freight trains and shunting in the yard. Joyce was built to shunt wagons around so this was an ideal exercise for the loco and crews! She did manage to get on some of the double headed or triple headed passenger trains.
Class 03 D2128 looked brilliant in its newly applied BR green livery and also performed faultlessly throughout the event. Class 08 D4095 remained on the Radstock end of the passenger train throughout the gala.
Overall, it was an excellent event with lots of visitors and lots of positive feedback including this from one customer:
"We took our Grandson here for a ride on the steam train. From the moment we arrived we received a fantastic welcome from Geoff. He helped us park in the yard which was free. Then he secured us a seat in the front carriage. Geoff then gave us a guided tour whilst sharing all the history and told us about all the renovations that had been done. Then our grandson was allowed up on the steam train to have some photos taken. They put a flat cap on him and gave him a shovel to hold and that made for one of the best ever pictures. We cannot thank you enough for how much you went out of your way to ensure that he loved every minute. The two rides on the steam train were magical too. We'll be recommending like mad and we'll be back. Brilliant!!! Michael Guy
On Tuesday 26 October over 60 miners and their families visited the Midsomer Norton station, known as Norton Hill by most, for a get together following an event earlier in the year when the miners were able to meet up.
The gathering was organised by the Somerset Miners Welfare Trust and hosted by the railway, where lunch was provided and the opportunity to ride on the train pulled by Joyce, a sister locomotive to the Sentinels that shunted Radstock yard to distribute coal mined from the Somerset Coalfield.
Many families turned up early and collected their lunch to enjoy either in the buffet car or on the train waiting for the first departure. Everybody had a great time and it is hoped that this will be repeated and create a strong link between the two Trusts with their shared interest in Somerset coal mining history.
Wednesday 27th October saw the railway participate in the BANES Museums Week – our museums were open and we also ran the Wickham Trolley which was once again very popular and something we're definitely looking to do regularly next year.
The busy period will finish with Halloween steam trains on Sunday 31st - there are tickets available for this event so click here for details.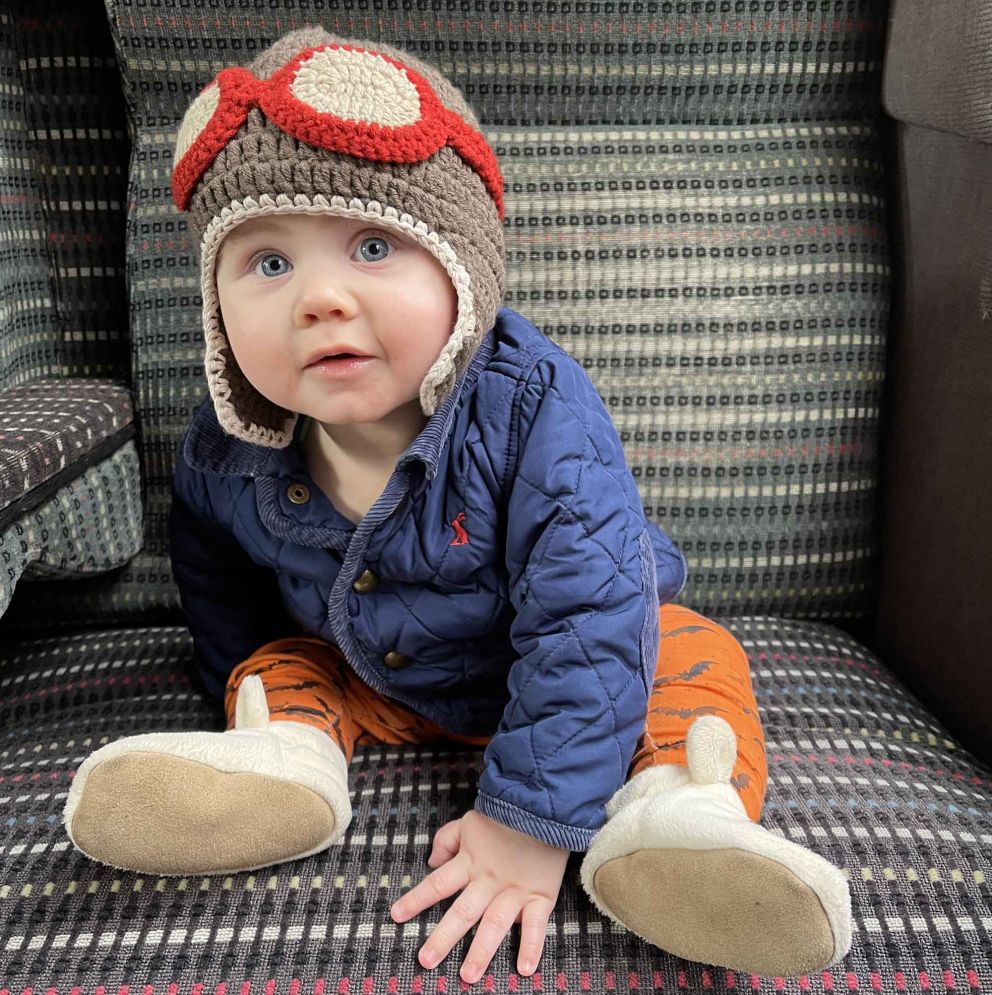 Katy
Young and old alike enjoy a train ride!
Katy very kindly provided this picture of her son enjoying his experience during our End of Season Gala. We all thought it was a brilliant picture so thank you Katy!
Published By:
Patrick Stevenson 29th October, 2021