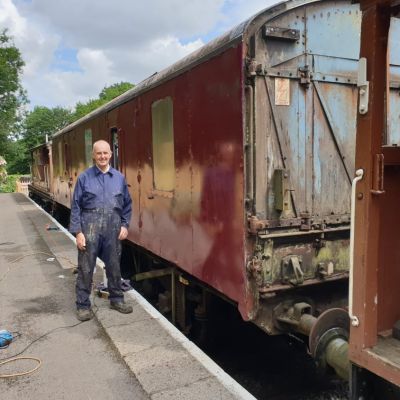 Barrie Papworth
CCT Progress
What a difference in 10 weeks!
CCT M94438 only arrived at Midsomer Norton on the 14th May 2021. Since then the interior has been cleared of rubbish and the ceiling panels which were in a poor state removed.
One set of end doors with the panelling in very poor condition have been removed for refurbishing by working volunteer Dave Stickland who joined us only in the last few weeks and has already made a massive contribution to the work on site.
New external metal sheeting has been fitted where sections of the bodywork were holed due to corrosion. The whole of one side has now received a first coat of BR maroon paint thanks to working volunteers Alan Humphries and Maz Glanville.
Once the CCT has been overhauled, the intention is to use it as a second hand book store to bring in some much needed funds for the railway. If you would like to assist either as a volunteer - see our forthcoming event in early August for the volunteers weekend or make a donation, then please do so on our JustGiving webpage.
Thank you
31st July, 2021