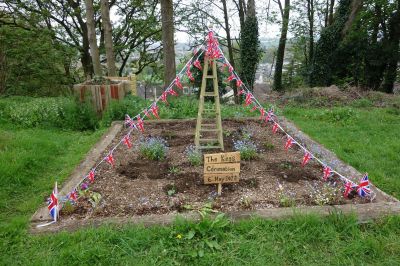 PS
Coronation Weekend at the station
Volunteers at the railway have been busy decorating the station with bunting for the King's Coronation this weekend. The main image shows the brilliant Coronation Garden which is in the tended area overlooking Silver Street - this is well worth a visit in its own right and thanks are due to volunteers Sherrie and Elliot for making this display.
Although the station is not open on the day of the Coronation itself we are open on Sunday, May 7th and will be running a standard loco hauled passenger service - first train departure 10:30am. The station shop, buffet, second hand book Emporium and Museum will all be open from 10:00 to 15:30. Our buffet stocks a range of hot & cold drinks, snacks, cakes, sandwiches & pasties - now including vegetarian options.
The superb N Gauge layout of the station and nearby colliery (Norton Hill) will also be operating - it's located in the book Emporium.
To buy All Day Rover train tickets click below.
Click Here to Buy Tickets
Published By:
Patrick Stevenson 2nd May, 2023