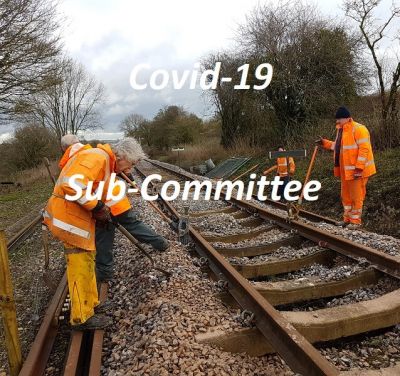 Brian Litherland
Covid-19 Sub-Committee
The Trust and Company have set up a sub-committee tasked with assessing the conditions under which working volunteers could return to carry out essential maintenance tasks. This can only happen when the Government announces a relaxation or removal of the current restrictions that are in place. It may be the case that it is several months before volunteers are permitted back and when they are, social distancing rules and other guidelines are likely to be still in place and must be adhered too.
The sub-committee will identify what actions must be completed prior to allowing working volunteers to return to the site and once they are back what tasks they can undertake in order of priority. It will also identify what PPE (Personal Protective Equipment) may be required and when that equipment can be provided. Only when all the pre-requisites are in place and Government restrictions allow will volunteers be asked if they'd like to return.
In the interim period prior to volunteers being permitted back on the site, the railway's volunteers are conducting regular, random security checks of the site.
3rd May, 2020