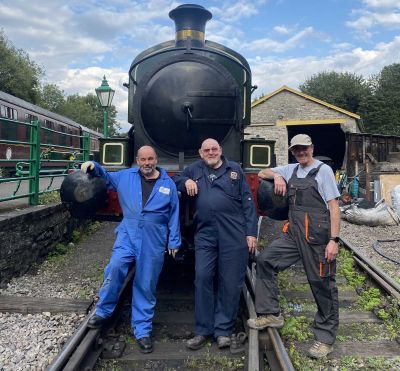 Mike Abbott
Driver Experience Day thoroughly enjoyed by all
Saturday 18th September saw our first driver experience course since March 2018! We had 3 people attend the day which involved preparing and driving visiting locomotive Kitson 5459 ' Austin 1'.
The candidates arrived for a 08:00 start which saw them learning how to prepare the locomotive for the day including getting stuck in with oiling up the locomotive which they all did supurbly. Once Austin 1 was ready, they then took it in turns to operate the locomotive light engine up the line to learn the controls and get a feel for the loco, the route and the signals on the railway.
We then coupled Austin 1 to the coaching stock and undertook a few trips with the train which they all really enjoyed. We left a diesel shunter on the back which meant they also got the chance to operate that. During lunch our own crews shunted the coaches out of the way and connected the loco up to a demonstration freight train. Each candidate again got to operate the loco but this time on a freight train which was a completely different experience for them.
Norman, Ali and Roy all thoroughly enjoyed their day with us at the railway; they all did an excellent job and we look forward to seeing them again sometime.
Here are some more pictures showing both the loco preparation and footplate aspects of the experience.
Published By:
Patrick Stevenson 21st September, 2021