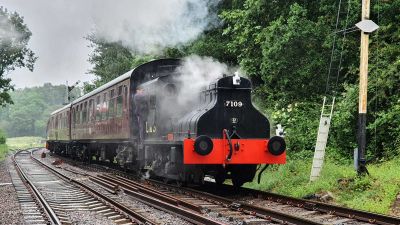 Harry McConnell
Father's Day Success
Well, the Dad's were out in force on Sunday and our Father's Day special trains were a great success.
The railway took record bookings for the trains with virtually every compartment sold out in advance on all four trains that were run on Sunday, add to that numerous bookings for seats in the open coach and the railway experienced its busiest operating day so far this year.
The overall income and expenditure for the day is still being finalised, however it looks like the railway will have made a healthy profit on the event which is extremely pleasing after the railway being closed for a good proportion of the last 12 months due to Covid. Our volunteer staff who run the buffet coach reported their best ever day and were serving drinks and snacks non stop throughout the day. Shop staff also reported a steady flow of customers during the day.
Although the weather could have been better, we welcomed many new visitors to the railway and they all went away after enjoying a thoroughly good day.
However rest assured, that we will not be resting on our laurels and are already thinking of ways we can improve the event for next year.
Our next main event is the 3 day Mixed Traction Gala starting on the 2nd July with four locomotives in operation - tickets are on sale now.
21st June, 2021