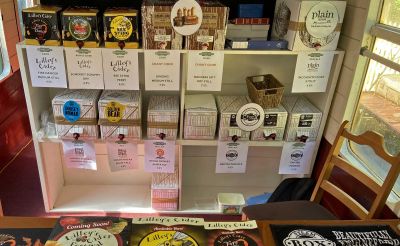 Stephen Lacey
First real ale event at the station since 2019
The railway hosted a very well attended and enjoyable real ale and cider festival over the weekend of July 22nd and 23rd. This was the first such event since October 2019 due to the impact of the pandemic. The dreadful weather on the Saturday did not dampen spirits with plenty of shelter available in our heritage carriages; on the Sunday, after early showers, the sun came out and people were able to have a drink outside and enjoy live music courtesy of Bennie Vee. Bennie was persuaded to sing a surprise Happy Birthday to our catering manager Sue which was a nice moment. The drier conditions also saw the first outing of our new tables and benches provided thanks to the generous sponsorship by Tesco.
Beers at the event were supplied by Glastonbury Brewery, Wriggle Valley Brewery (Stalbridge), Plain Ales (Sutton Veny) and the Cronx Brewery (Croydon).
Ciders were from Lilley's (Frome) and Chant Cider (West Pennard).
Thank you to all our suppliers, visitors and volunteers who made this such a succesful and enjoyable event. We hope to do similar as a regular feature in our calendar so watch this space for the next one!
Published By:
Patrick Stevenson 25th July, 2023