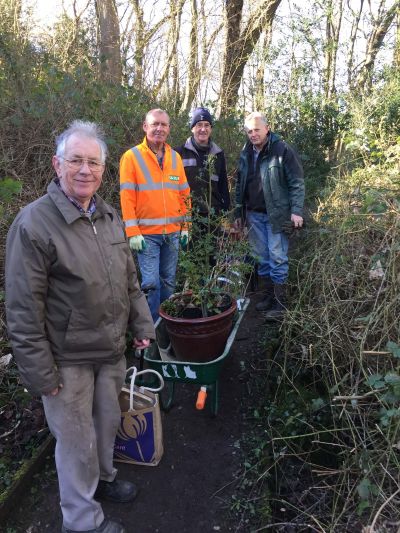 Gardening Heritage at Midsomer Norton Station
It's a busy time of year for gardeners at Midsomer Norton Station. They have been doing their usual Monday work of weeding and mulching as well as planting new seeds and hanging baskets. The bank border of Perennials by the buffet coach is being trimmed, weeded and mulched and that will continue during spring flowering time.
The front border needs light weeding at the station building end as spring weather encourages the seeds lying dormant. A strong team of students is helping to extend the front border down to the traffic lights by carting composted material down to fill in the gap. The hedge plants are already in position ready to be planted when they are finished.
One of the early spring tasks was to plant young hedge plants along the field boundary of the railway line. The hedge plants have all been donated by members of the Somerset and Dorset Heritage Trust and are all native ranging from Hollies Hawthorns and Field Maples to Dogwood and Beeches.
Volunteer Gardener and Trustee Gail Coleshill would like to welcome more volunteers for the gardens.
She said
"Midsomer Norton Station was always known for its gardening skills when the Somerset and Dorset Railway was running. We are keeping up the tradition and have also extended the garden area – and we sell plants. Anyone who would like to help come up on a Sunday and Monday and you will be very welcome."
The station on Silver Street is open on a Sunday and Monday from 10 till 4 for volunteers and visitors. The next Open Day event will be the May Day Bank holiday when trains will be running on Sunday 6th and Monday 7th.
The photos shows Doug Auckland, David Lacey - Goodman, Tony White and John Bridges, volunteer gardeners on their way to plant the boundary fence through the nature reserve.
Published By:
Somerset & Dorset Railway Heritage Trust 2nd May, 2018