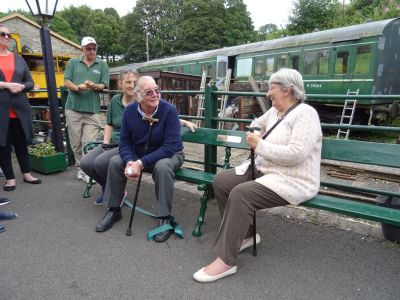 Historic Benches return to Midsomer Norton Station
Sunday at the station saw a moving dedication to the railwaymen who worked the old Somerset and Dorset Railway with the dedication of a memorial bench to the late Ian Bunnett, Fireman of Bath Green Park some of whose ashes were scattered over his beloved S&D through the firebox and chimney of Andy Chapman's resident Sentinel Joyce last year.
Thanks to the eagle eyes of volunteer Sean Dudden, who spotted the bits off an original S&D bench that once graced the platform at Bath Green park station, the Heritage Trust was able to get identical castings of the ends from a Bristol foundry using redundant railway chairs that once held the wooden sleepers in place.
The making up and painting of the wooden seat panels was done by young volunteers Jack Young, Will Taylor, Will Ramsey with the help of Sean and Bob Freeman in the station workshop in time for the day's ceremony.
Former Bath Green Park Fireman Roy Larcombe cut the ribbon on the bench with the help of Ian Bunnett's daughter Sue. Ian's wife Jan and his brother were also there. Derek Coles made a moving introduction thanking Ian Bunnett's wife and family for starting the process and Heritage Railway Trustee John Baxter thanked Sean Dudden for getting the first bench ready in time. Ian's bench represents the start of a number of similar memorial benches that will be placed at the station over the next few months with suitable plaques attached.
Station volunteer Sean Dudden was pleased with the resulting benches. He said
"I found the old bench ends but didn't realise they would turn out so well.
I am pleased we now have a lasting memorial at the station dedicated to Ian and look forward to others in due course as we remember the old Somerset and Dorset Railway Bath Green Park men.
Visitors can see the benches in situ at the next events at the station.
The next events at the Midsomer Norton Station are the B&NES Heritage weekend on September 9th and 10th when the station and Museum will be open. September 16th and 17th is a vintage 50s weekend with train trips.
Published By:
Somerset & Dorset Railway Heritage Trust 29th August, 2017