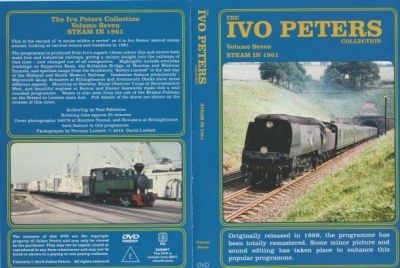 Norman Lockett Copyright David Lockett
Ivo Peters DVDs - Steam in 1961 and Steam in 1962 Now Available
Two New re-release Ivo Peters DVDs now available from our On-Line Shop
Volume 7 Steam in 1961
This is the second of Ivo Peter's series within a series of annual steam programmes.

This programme covers important rail tours and events throughout the country which Ivo recorded from the South of England to North West Wales and Staveley near Chesterfield.

Both main line and industrial railways are covered from the everyday to special events.
Volume 8 Steam in 1962
A particularly poignant year for Ivo as it saw the last Pines Express run on his favourite railway, the Somerset and Dorset.
The last Pines Express features in this programme, as do other S&D rail tours, events on the main line and branches in the south of England, industrial railways in the Midlands and - uniquely - a shopping trip by steam roller.
See our on-line shop DVD page for full details of these excting new releases
Published By:
Somerset & Dorset Railway Heritage Trust 27th June, 2020