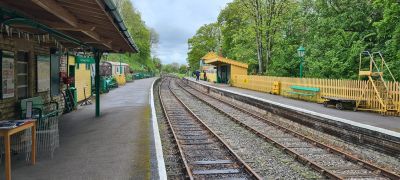 Brenden Hill
JustGiving Appeals Update
First and foremost a big thank you to everyone who has donated to our two appeals - the refurbishment of the RMB and the mineral wagons appeal.
Without the fantastic financial support of those people who donate to the railway - whether a one-off donation or a regular donation - the fact is that we would not be able to undertake a lot of the work that we are able to do and keep improving the railway for the benefit of our visitors and volunteers.
RMB Appeal - the appeal is now closed and achieved a fantastic total of £8,805, whilst this was short of the £10,000 target that we had set, the generosity shown by those that did donate enabled us to complete the work on refurbishing the RMB vehicle with only a small additional amount provided by the Trust to complete the work. The RMB is now in regular use being used to serve drinks and snacks when the railway is open. Many of the visitors to it have commented on the fantastic restoration and said what a delightful place it is to stop for refreshments.
Whether you donated or not to the appeal, why not visit soon and experience the excellent range of drinks and snacks available to enjoy in this fabulously refurbished coach.
Mineral Wagon Appeal - the total raised to date for this appeal is £3,610, the appeal remains open. Please consider making a donation to this appeal to assist with the overhaul of the two mineral wagons and other wagons in our growing fleet of goods wagons. The ambition of the Trust is to build up a collection of wagons that are typical of those that ran on the S&D and operate them as a demonstration freight train as a regular attraction at the railway.
Donations to the mineral wagon appeal can be made here Wagon Appeal
Donations - Regular donations are the life-blood of the railway and key to assisting the Trust to deliver our plans to improve and expand the railway. A regular monthly donation, even for just £5 per month, can assist the Trust with purchasing a new item of rolling stock, improving facilities on the site, and developing our plans for expanding the railway beyond our current one-mile limit.
If you can make a regular monthly donation, then please complete the form - available here Regular Donation Form and help the railway to become the premier heritage railway in the area.
Thank you to everyone who donates, your financial support will help us to grow.
Published By:
Somerset & Dorset Railway Heritage Trust 2nd June, 2021