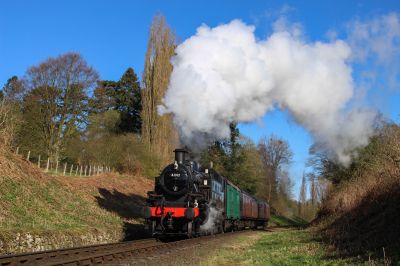 Kenny Felstead
LMS Ivatt Tank 2-6-2T 41312 to visit the railway!
The 8th September 1962 saw the last Pines Express from Manchester to Bournemouth hauled over the Somerset and Dorset Railway. For the past year the railway have been looking at opportunities to mark the event.
We are pleased to announce that thanks to our friends at the Mid-Hants Railway they have agreed for LMS Ivatt Tank 2-6-2T 41312 to visit the railway for a short period in September 2022 to celebrate the 60 year anniversary of "The Last Pines" and the revival of the Somerset and Dorset Joint Railway at Midsomer Norton.
41312 was built in May 1952 at Crewe locomotive works and spent its entire working career on the Southern region. Whilst not strictly an S and D loco, members of its class were based for a period at Bath Green Park and were seen hauling passenger trains such as the Bath - Binegar local and the Templecombe – Evercreech Junction local. The class were also often used as banking engines to support heavier trains over the steep gradients of the northern extension of the line and could have been seen passing through Midsomer Norton Station regually in the 1950's.
Matt Cornborough, Chair of SDJR Co Ltd said "We are very pleased to have secured the services of the Ivatt for this 60th anniversary celebration of the end of the Pines Express. Although only with us for a short period it will be a fantastic opportunity to re-visit the Pines on the only operational section of the original Somerset & Dorset. Come along and enjoy!"
41312 will be hauling passenger trains on the weekend of the 17th and 18th September and will also be used for two special photo charters on the 15th and 16th.
For further details and tickets please click the buy tickets button below and visit the events section of the website.
Click Here to Buy Tickets
21st April, 2022