Callum Willcox
Successful Mixed Traction Gala
This weekend, Midsomer Norton station was blessed with unexpectedly good weather and four locos in action! Our biggest ever gala saw our resident Class 08 and 03 Diesel Shunters working alongside unique Sentinel steam locomotive 'Joyce' and the visiting Kitson 0-6-0ST 'Austin 1'. We operated an intensive timetable that saw both freight and passenger services, with all combination of locos in action. Two vintage buses were on site assisting with transport to and from the gala. The Wickham Trolley was also put to work providing a ride within the confines of the station yard - don't forget that we have a series of "Wickham Wednesdays" commencing July 28th when you'll have the opportunity for a ride over the full length of the line. Click here for Wickham Wednesday tickets
Highlights from the weekend included the last passenger services on both the Saturday and Sunday triple headed! Our thanks to all the visitors who came and made the weekend such a success!
If you were not able to make the Gala Weekend, 'Austin 1' will be in steam hauling passenger trains on most Sundays throughout the summer - see timetable for details or Click here to buy tickets
Sentinel 7109 Joyce takes a turn during gala
Sentinel 7109 Joyce in the Down platform on July 3rd 2021. Passengers are seen boarding the train in readiness for the next trip up the gradient while on the Up platform other visitors and photographers look on in expectation. Joyce shared steam duties with Austin 1 over the course of the weekend.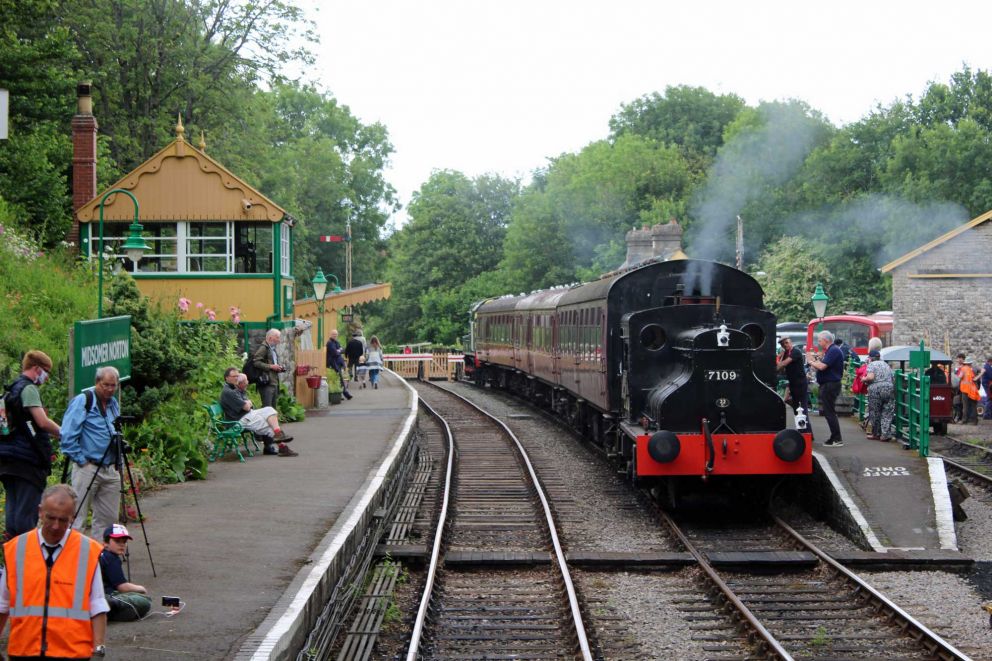 PS
More pictures from Mixed Traction Gala
Published By:
Somerset & Dorset Railway Heritage Trust 5th July, 2021