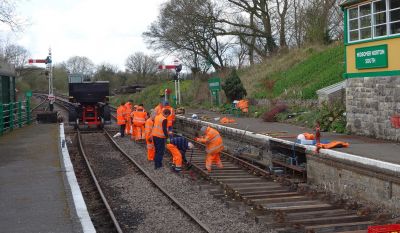 Patrick Stevenson
National Volunteers' Week 2021
In case you didn't know the 1st to the 7th June is National Volunteers' Week 2021. This is a chance to recognise all those across many sectors who give their time freely. In that spirit we'd like to say thank you to all our volunteers at Midsomer Norton who are vital to both preserving the railway heritage and enabling us to run trains and other services that generate the income we need to achieve our goals.
Interested in volunteering on our railway?
We're planning to hold a volunteers' weekend on August 7th & 8th 2021 when we can introduce some of the very varied activities undertaken on the railway. We need all sorts of skills ranging from those with direct railway experince to engineers, administrative staff and those who'd just like to help and are prepared to learn. We're always looking to add to our teams in catering and retail and increasingly in the area of managing our website and online ticketing.
We'll be adding more content about the Volunteer's Weekend in the next few weeks so keep an eye on "Events and Experinces" on this website. In the meantime if you'd like more information or your keen to volunteer then please email [email protected].
Published By:
Somerset & Dorset Railway Heritage Trust 3rd June, 2021