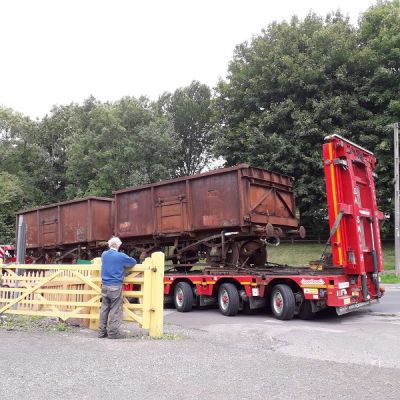 SRJL
New additions - Mineral wagons at Midsomer Norton
It's probably no less than 50 years since our station saw coal wagons of this type. The Trust is extremely proud to have purchased these vehicles as we strive to recreate a typical S&D freight train. The two 16 ton mineral wagons arrived earlier today from the Swanage Railway and will now undergo repairs to include the replacement of some of the bodywork and cosmetic restoration.
It is thanks to the generosity of our supporters that the Trust has been able to purchase these two wagons and arrange for them to be transported to Midsomer Norton.
If you would like to donate to assist with the restoration of these wagons and others that we would like to purchase for our demonstration goods train, then please visit our appeal page or go direct to our JustGving appeal page
https://www.justgiving.com/fundraising/sdrht-bringinghomethegoods
We are pleased to report that thanks to the generosity of our supporters, this appeal now stands at £1750.00 - a big thank you to everyone who has donated.
Published By:
Somerset & Dorset Railway Heritage Trust 29th June, 2020