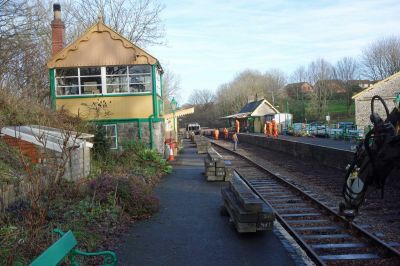 PS
Major New Year track work at Midsomer Norton South Station
The famous Midsomer Norton track gang is having a busy start to 2022! The first 2 Sundays of the year have seen all the badly worn Down line rail in the station area removed along with all the sleepers. On the first Sunday 4 track panels were de-keyed, the fish plates removed and the 8 lengths of rail lifted out of the sleepers,cut into 30' lengths in situ and then moved with the RRV (Road Rail Vehicle) to the Grampus wagons to await reassembly later in the month.
On the second Sunday (Jan 9th), there was a near record number of volunteers to help which meant all the sleepers could be lifted out using the special boom on the RRV. They were initially placed on the Down platform where the chairs were removed by a separate team; the sleepers were then passed through to the yard and stacked for later use.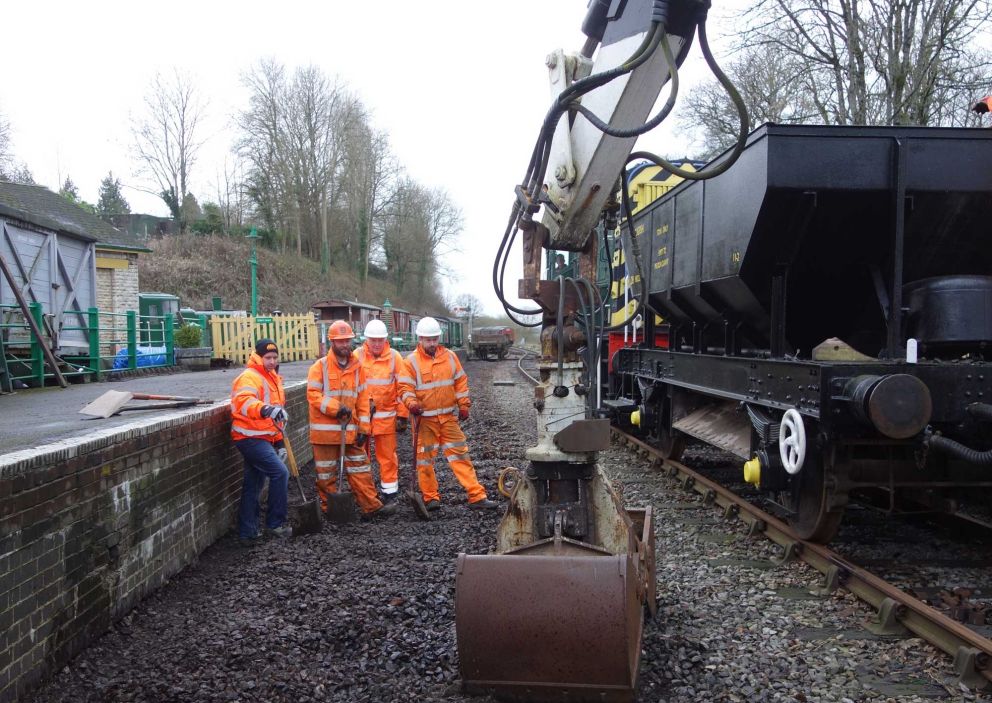 PS
After a well earned pause for lunch the main activity in the afternoon of Jan 9th was to start removing the old ballast now exposed after lifting out all the rail and sleepers. This involved the rather tricky task of fitting a hydraulic bucket scoop to the RRV to gather up as much material as possible and empty it into the Dogfish wagon located on the Up line. The scoop was supplemented by a lot of shovel work so by the time fading light brought work to a finish a mug of tea in the mess van was very welcome.
The next 2 weekends in January will see volunteers on site for both Saturdays & Sundays with a view to completing this work.
Check back to this website for further updates on progress - and also see our new PW Blog - under the 'About Us' menu for more photos.
Published By:
Somerset & Dorset Railway Heritage Trust 10th January, 2022