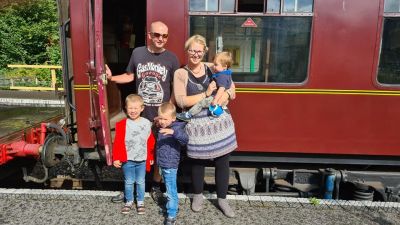 Brenden Hill
Our first running day - Sunday 2nd August
The railway operated four trains during the day, with passengers having the ability to book a compartment in which they could travel in isolation from other passengers. We were pleased to see passengers on all four trains. Because the number of passengers was light this helped to ensure there were no issues with social distancing during the day.
The buffet car was open and was very popular with both passengers and locals just dropping in for something to eat and drink. The shop was also open, and well patronised, even allowing for the strict social distancing policy of there being only one customer or couple in the shop at any one time. For those unable to visit the station shop, our on-line shop can be visited at any time via this web site where we have an extensive range of merchandise on offer.

Tickets are still available for next Sunday's train and can be booked online again. We will also permit passengers to arrive and book on the day if the trains are not fully booked. Book Tickets
A number of our volunteers acted as marshals during the day. They were on hand to ensure that passengers followed social distancing guidelines as well as offering help and information to passengers. Various 'touchpoints', door handles, window catches etc were wiped down in between trains and at lunchtime, the railway used its new 'fogging' machine for the first time to dry fog the compartments with a disinfectant to ensure that the coaches remain safe for our passengers to use.
Why not come along next Sunday and enjoy a train ride in the beautiful Somerset countryside and a visit to our buffet car using your £5 voucher for those who book a train ticket.
3rd August, 2020