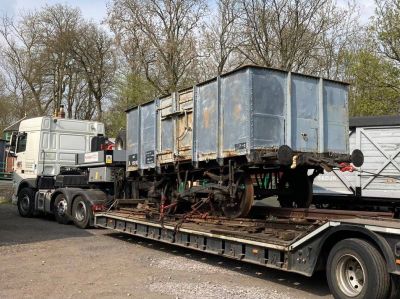 Mike Abbott
Our latest arrival at Midsomer Norton
Our latest new arrival at Midsomer Norton is an ex - British Railways 16 ton mineral wagon that was originally built for the Société Nationale des Chemins de fer Français (SNCF), France's national state-owned railway company and later used by British Railways until it was taken into the care of the Science Museum.
The Trust successfully applied for a transfer of ownership of the wagon and today, saw its arrival at Midsomer Norton. More details about our new wagon can be found here Detailed wagon information.
The wagon requires some cosmetic restoration and once completed will join the ranks of our growing wagon fleet and used as part of our demonstration freight trains.
If you would like to assist us with this appeal, all donations are very much appreciated. Your donations will help to finance the restoration of this and our other current wagon projects - the PalVan and our other two mineral wagons - both projects that require additional funding in order to complete them.
Donations can be made here. Donate Here
Thank you - all your donations are greatly appreciated.
Published By:
Somerset & Dorset Railway Heritage Trust 21st April, 2021