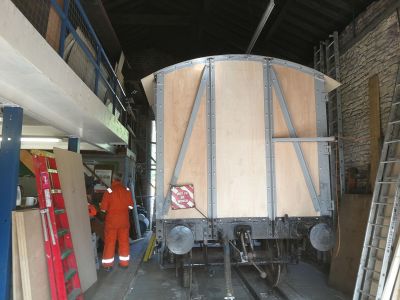 Steve Jeffrey
PalVan Progress - May 2021
The railways' small group of Carriage and Wagon volunteers continue to make excellent progress with the work to overhaul the PalVan which arrived a few months ago.
The wagon had all the rotted timber removed, the metalwork treated with Hydrate 80, and primed. Now new plywood panels are being fitted and once complete, the wagon will be painted, together with lettering and numbers applied. An additional feature inside the van is the fitting of a metal bracket for a hoist that will assist when heavy equipment is loaded /unloaded from the van - this can be seen in one of the photos.
The results I'm sure you will agree look fantastic. Once the work is completed, the van will be used by the railways' permanent way team for the storage of track materials and tools, it will also be part of the railways' demonstration freight trains in the future.
If you would like to contribute to the cost of the overhaul on this and our other railway wagons, please Donate here.
Thank you to everyone who as donated to date, your donations are very much appreciated.
Published By:
Somerset & Dorset Railway Heritage Trust 16th May, 2021