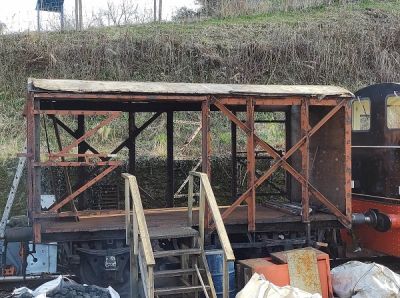 Matt Cornborough
PalVan Restoration Begins
Our Wagon team has for the time being turned their attention to the PalVan. This ex-British Railways wagon came to Midsomer Norton last year from the Swanage Railway and needs the majority of the bodywork replacing. Once the team have removed all the rotted wooden panels, they will then treat all the metalwork prior to the commencement of fitting new plywood panels.
All being well and subject to sufficient donations, in six months' time, we should have another refurbished wagon to add to our growing wagon fleet.
If you are able to assist with a donation, no matter how small, please visit
'PalVans' were introduced by British Railways, in an answer to the increased level of good traffic being transported on wooden pallets. Unfortunately due to the design of the wagon, it resulted in the weight of the goods carried not being evenly distributed over both axles which led to rough riding and occasional derailments. All vehicles were prematurely withdrawn by BR, with many surviving for further use with the military.
Further details of the van can be found here: http://www.ws.rhrp.org.uk/ws/WagonInfo.asp?Ref=7843
Published By:
Somerset & Dorset Railway Heritage Trust 8th March, 2021