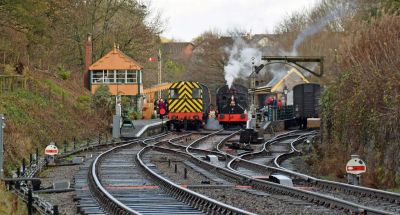 PS
Re-opening Announcement - Trains running from May 22nd - Tickets now available.
Following a review of the latest Government guidance, we are very pleased to announce that the railway will re-open to the public for the operation of passenger trains from Saturday 22nd May. In order to comply with the latest Government guidance, we are unable to open any earlier than this date. Because passengers are unable to alight from the train until they arrive back at Midsomer Norton, their train ride is classed as an experience rather than an actual journey from one station to another station and therefore we will have to wait a little bit longer before welcoming the public back through our doors.
In the interim period, until we are open again, volunteers will be carrying out maintenance work on the trackwork and rolling stock to ensure that everything is in a good condition and ready to begin services from May 22nd onwards.
Train departure times from May 22nd (may vary for some special events).
Train 1, 10:15
Train 2, 11:45
Train 3, 13:15
Train 4, 14:45
Train 5, 16:15 (Selected dates - July, August and September only)
Ticket options (covers 2 consecutive return trips on our line); based on family groups traveling together:
£15 for up to 2 people in an Open Carriage Bay
£25 for up to 4 people in an enclosed Compartment with a sliding door
In both ticket categories, you can choose to purchase extra seats for £6 each up to a maximum of 8.
Events:
May - We have two events planned for May - the Grand Re-opening on May 22nd and 23rd and the Family Weeknd on May 29th, 30th and 31st. Have a look at Upcoming Events on this website.
A number of other special events are also being planned throughout the year and further details will be published nearer the dates:
June 20th - Fathers Day "Steam Teas" - Cream tea special hauled by 7109 Joyce Top and Tailed with the Class 03 D2128
July 2nd, 3rd & 4th - Mixed Traction Gala - 4 Locomotives in action with a visiting steam loco!
Top and Tailed passenger trains, Double-headed trains, and freight trains!
Published By:
Somerset & Dorset Railway Heritage Trust 17th April, 2021