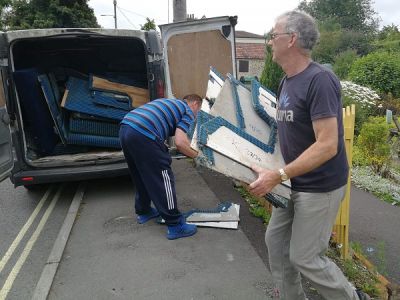 Barrie Papworth
RMB Appeal - £7,000 Target in sight!
Our appeal total now stands at an impressive £6,669 and a massive thank you to everyone who has donated to date. However, we still have some way to go before reaching our overall target of £10,000.
With the appeal edging closer to the £7,000 figure required to cover the cost of materials and labour to enable all the seats to be reupholstered The Trust took the decision to remove all the seats from the RMB and placed the order for the moquette a few days ago. All the seats have now been removed from the site and taken to the upholsterer's workshop to commence the process of stripping and recovering the seats.
Whilst the interior of the coach is now predominantly empty, the opportunity is being taken to remove all the old linoleum floor covering. The cost to replace this is approximately £1500 including the labour costs. The Trust is not in a position to be able to order the new linoleum until we have reached the £8,500 mark and that will be the next target for us to aim for once the current £7,000 target has been passed.
Volunteers are now also sanding down and painting and varnishing the interior of the coach whilst it is empty. With your continued, generous donations, our target is to have the coach completed and ready to welcome visitors by the end of August.
Donations to the appeal can be made here https://www.justgiving.com/fundraising/sdrht-refurbishthermb
Published By:
Somerset & Dorset Railway Heritage Trust 16th July, 2020