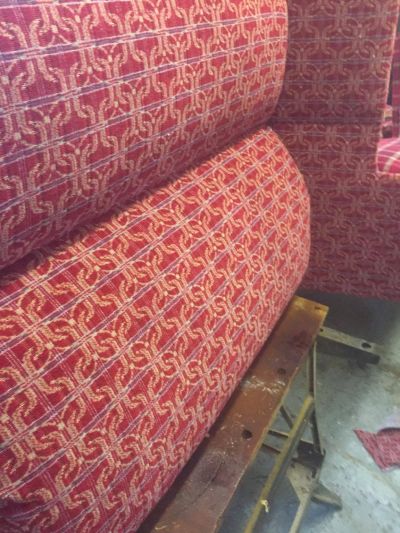 Barrie Papworth
RMB New Seats
The first of these reupholstered seats are now being returned to Midsomer Norton. The cost of the moquette was approximately £2,000 and a further £5,000 was then spent on the actual work to reupholster the seats. The photo shows the first seat back and side panel which has been reupholstered to a fantastic standard.
In the interim period whilst the seats have been removed, volunteers have been sanding down the interior panel in readiness for varnishing. The appeal is still ongoing as we urgently need to raise another £2500 in order that we can place an order for the linoleum and have this installed by the end of September.
Our target is to have the interior of the vehicle completed by early October in order that visitors to the buffet can sit inside and enjoy a range of food and drinks - whilst the 48 reupholstered seats inside will permit social distancing guidance to adhered too. In the future, the railway also intends to use this vehicle in the consist of passenger trains and serve cream teas and other food in the fabulous refurbished interior whilst enjoying a train ride through the beautiful Somerset scenery.
If you wish to donate to our ongoing RMB appeal. https://www.justgiving.com/fundraising/sdrht-refurbishthermb
Published By:
Somerset & Dorset Railway Heritage Trust 15th August, 2020