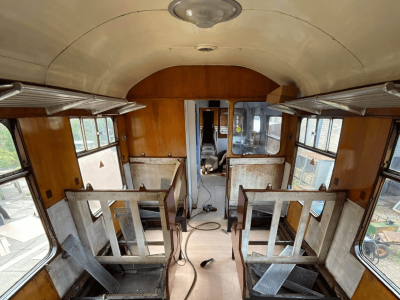 Barrie Papworth
RMB Refurbishment
The railway's team of in-house volunteers continue to make fantastic progress on the interior of the RMB, all the woodwork is now complete and varnished. Contractors have been on site this week, stripping out all the old linoleum, cutting and fitting a plywood base, and then commencing the installation of the new linoleum. This is due for completion by next weekend.
Then the task of re-installing all the panels and seats can commence with a target date of completion by the October Gala Event at the end of the month. We still need funds to complete the work, so if you haven't yet donated please consider giving something, no matter how small the donation.
A big thank you to all those who have donated to date and it's great to be able to keep providing you with updates on the progress.
Published By:
Somerset & Dorset Railway Heritage Trust 16th October, 2020