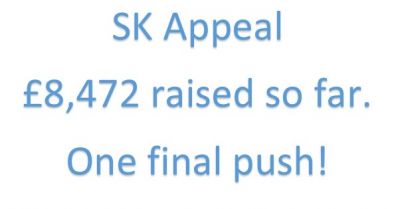 Brian Litherland
SK Appeal - Nearly there!
We are very pleased to report that to date, the appeal has currently reached a grand total of £8472. Thanks to the Somerset & Dorset Railway Company reporting a very good operating season in 2021 with good passenger numbers, the Company has been able to transfer across to the appeal the sum of £5,000. This sum has significantly helped the appeal to move closer to its target of £10,500.
At the moment, all the seats are away at the upholstery company. In the meantime, our team of dedicated volunteers is continuing with the work to strip down and replace old panels, fit new panels and varnish them in readiness for when the seats can be reinstalled.
Our aim is to have the coach finished in readiness for the start of the new operating season on Saturday 2nd April.
If you haven't yet donated, please consider making a donation, every £10 donated now will get us that bit closer to our target.
Click on the donate button at the top of the page to make a donation to this appeal.
A big thank you to all those who have donated to date, hopefully very soon, you will be traveling in the refurbished coach and seeing how your donation has been put to good use.
Published By:
Somerset & Dorset Railway Heritage Trust 3rd March, 2022