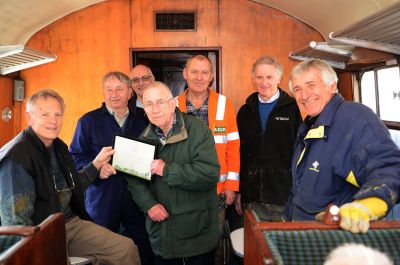 South West in Bloom award for Midsomer Norton Station
'Outstanding' say South West in Bloom about Midsomer Norton Station
The Gardens team are meeting at the station on Monday March 2nd to be presented with their certificate from the South West in Bloom 'Outstanding' certificate in the 'It's Your Neighbourhood' class.
'Outstanding' is awarded to groups who have achieved a level 5 which is the highest level in the 'Its Your Neighbourhood' event.
The 'Its Your Neighbourhood' is a development of the Neighbourhood awards scheme and is not competitive but is designed to give support and recognition to community action groups across the South West. Although the plants on display are a large part of the award other factors are equally important. The Judges are looking for community participation and environmental responsibility and recognised that Midsomer Norton Station has shown high levels of all three.
In 2019 the 'In Bloom' judge Denise James visited and was able to observe the result of work done not only by the gardens team but also students from the Fosse Way School and a group of volunteers from Sainsbury's who were celebrating 150 years by doing some local community work. Trustee with the responsibility for grounds and gardens, Gail Coleshill, took the judge not only around the site by the station buildings but also up the line in the Wickham Trolley so that she could see the environmental improvements and wildflowers lineside as a result of judicious clearing by the track work volunteers.
The official awards day took place towards the end of last year in Newquay but as there were too many volunteers from Midsomer Norton Station to make the trip it was decided to hold a small presentation in the spring.
Trustee Gail Coleshill said, "Although we have entered the Its Your Neighbourhood class before we have never achieved Outstanding before and I would like to pay tribute to all the hard work from the team. There is no doubt that the station looked its best not only with all the flowering borders around the station but also the wildflowers up the line.
We would also like to pay tribute to Denise James who has been a great help and support over the years and we were very sad to hear of her death last autumn.
Fosseway School took over the Dig for Victory bed near the Pillbox and planted it with flowers and vegetables are grown from seed at the school. Sainsbury's volunteers continued making the front road border by clearing the weeds, filling the ditch with home grown compost and planting shrubs and perennials.
Trustee John Baxter will be presenting the certificate and a cake to celebrate the 'Outstanding' work of the volunteer gardens team at Midsomer Norton Station.
The Station volunteers would welcome more volunteers for the gardens and visitors to the next event which is the Diesel Gala on March 7th and 8th.
Published By:
Somerset & Dorset Railway Heritage Trust 29th February, 2020