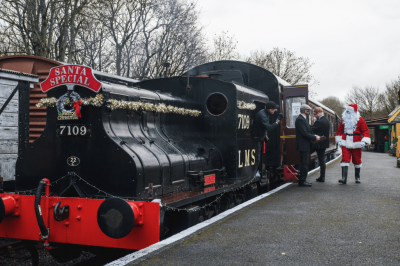 Lily Watts
Successful Santa trains bring 2020 to an end
We are very pleased to announce that our Santa trains were a big success again this year with 160 families passing through Santa's grotto. Our little army of Santa's helpers and elves were kept very busy in the weeks leading up to the event, preparing the station and the coaches, wrapping presents, and creating Santa's grotto to make sure everything was just right to welcome all our visitors to the station. All their hard work and efforts were well worth it, with lots of complimentary feedback received from our delighted passengers who travelled with us during the festive period.
We had a really fab time today at the Santa special. My 2 kids have not stopped talking about it. It was all very well thought out and the staff were so friendly and kind. We look forward to returning in the new year.
Despite the additional safety precautions that the railway volunteers had to be put in place due to Covid, it was really pleasing to see so many people coming out to support the railway and provide their children with an enjoyable and memorable experience. We thank you for your support and look forward to seeing you again next year.
We loved our Santa experience yesterday! Thank you for making it so enjoyable.
Thank you to everyone involved in the planning and running of the events and a big thank you to all our paying customers and visitors who have supported the railway through what has been a challenging year. We wish you all the best for Christmas and a Happy New Year, hopefully we will see you back again next year.
All photographs by Lily Watts photography.
Published By:
Somerset & Dorset Railway Heritage Trust 24th December, 2020