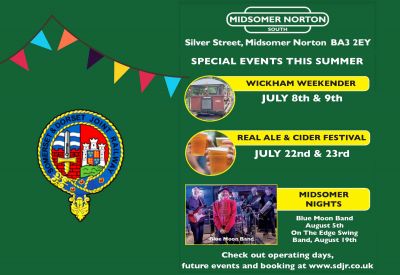 Steve Jones
Events on the S&D at Midsomer Norton Station this summer
Saturday 8th & Sunday 9th July. Our Wickham Weekender event will give visitors the opportunity to ride on 2 different Wickham Trolleys along the whole length of the restored railway at Midsomer Norton. We'll have our resident Type 27A (B 40W) and we're delighted to welcome a guest Wickham for its first public outing - a smaller version which is a Type 8S (Works No. W4165) which is in its 75th year. Have a look at our events page for more details and to buy tickets.
Saturday 22nd & Sunday 23rd July. Come and enjoy our Real Ale and Cider festival to be held over 2 days in high summer at Midsomer Norton South Station. Tickets for the festival will cost £12.00 each per session and will include your first pint of beer or cider, a free souvenir glass, tasting notes and unlimited trips on the train. More beer & cider can be purchased for £2.00 per half pint using the tokens available from the shop . Food will be available and other attractions at the railway will be open. Find out more here including links to buy tickets.
Saturdays 5th & 19th August. Come and enjoy live music, train rides & refreshments on two S&D evenings at Midsomer Norton South station. The first on Saturday August 5th, will feature the Blue Moon Band and the second, on Saturday August 19th, the On the Edge Swing Band. Click here to find out more including information on the two featured bands and links to buy tickets.
Contact [email protected] for more information on these & other events at the railway.
Click Here to Buy Tickets
Published By:
Somerset & Dorset Railway Heritage Trust 22nd June, 2023