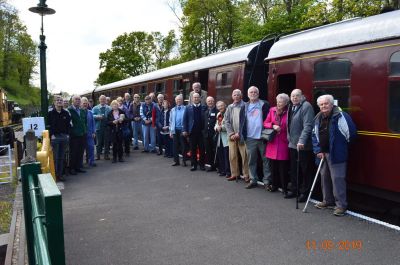 Supporters special train over the new extension
On Saturday 11th May, the S&DRHT welcomed over 60 people to the station for a special 'first train' to run over the new extension. The latest ¼ mile extension now brings the running line to a total of one mile, and just a few yards short of the infilled cutting.
The special day was a thank you to supporters who have donated £100 or more to the extension appeal, and also a thank you to several members of the permanent way team who have helped build the extension over the last few years, in all winds and weathers.
Stephen Lacey – Trust Chairman – welcomed invited guests including a number of ex S&D footplate crews to Midsomer Norton where the special train was 'topped and tailed' by the Trust's two Diesel electric shunters D1120 and D4095
Several journeys up and down the line were made, whilst the guests enjoyed a complimentary packed lunch and views through carriage windows not seen by train passengers for over 50 years.
During the day, a raffle was held which generated over £225, with a number of lucky winners returning home with various bottles of wine, a fine food hamper and a coffee machine!
The glorious spring sun was the perfect backdrop for the Trust to show its guests a number of ongoing projects, such as the Wickham Trolley restoration. The positive response from the guests was extremely gratifying for the Trustees to hear, with many complementing the Trust on its work to date.
The Trust would like to thank all those who have donated to the extension appeals, and its working volunteers who have all helped revive another section of the S&D.
A formal opening of the extension is planned for later in the year, however passenger trains will be operating over the Extension from Saturday 18th May, starting with our ever popular Real Ale Train, tickets for which can be purchased via our website.
Published By:
Somerset & Dorset Railway Heritage Trust 14th May, 2019