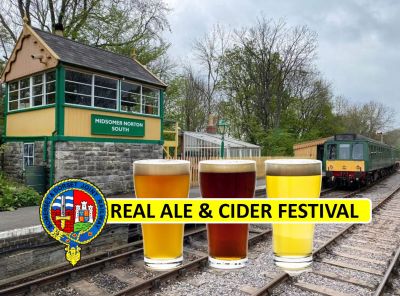 Steve Jones
Tickets for Real Ale & Cider Festival now live!
Tickets now available!
Come and enjoy our Real Ale and Cider festival to be held over 2 days in high summer at Midsomer Norton South Station – Saturday July 22nd and Sunday July 23rd so make a note in your diaries. Tickets for the festival will cost £12.00 each per session and will include your first pint of beer or cider, a free souvenir glass, tasting notes and unlimited trips on the train. More beer & cider can be purchased for £2.00 per half pint using the tokens available in the serving area . Sessions on both days will start at 11am and finish at 4pm with trains running hourly throughout from 11:30 to 15:30.
We'll be offering 6 real ales mainly from local brewers although we're also looking to include a couple of "wild-card" beers from further afield. Up to 4 ciders will be available also from local producers. Food will be available from our buffet coach which will be located adjacent to the bar.
Public transport is available via the 174 Bath to Wells bus (operates Saturday & Sunday); there are also other services between Bath and Midsomer Norton. Remember to alight at Norton Hill School which is the nearest bus stop to the station. The 424 Frome to Midsomer Norton runs on the Saturday of this event only.
Advance booking via the link here is recommended but there should be some tickets available on the day.
Age 18 plus only – you may be asked for ID to verify your age in line with the conditions of our licence.
Prefer to have a train ride only? No problem. Just select the train only adult & child all day rover tickets.
Contact [email protected] for more information.
Click Here to Buy Tickets
Published By:
Patrick Stevenson 5th June, 2023