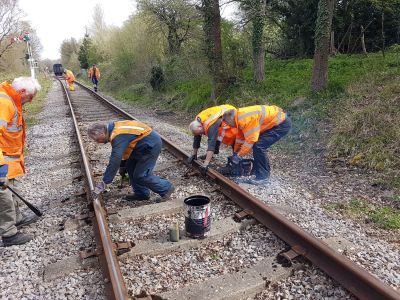 Track maintenance in readiness for the operating season
As with any railway, whether it's part of the national rail network or that of a Heritage Railway there is always regular maintenance to be undertaken in order to ensure that the permanent way is in good condition for the coming operating season.
As part of this regular maintenance task, for the second week running members of the 'track gang' were carrying out the work of removing all the fishplates at each rail joint, applying grease along the contact points between the fishplates and the rails - to ensure that the rails can expand more easily in hot weather - then putting back the fishplates and tightening up the nuts and bolts.
With the aid of the petrol 2 stroke 'nut runner' excellent progress was made in the warm Somerset sunshine and all of the fishplates on approx. 1/3 mile of the running line from the engineers siding to the Hunt Crossing were completed.
The track gang went home, very tired but very pleased after a productive days' work.
Once this maintenance task is completed, then the next task is likely to be the dropping of more ballast and then the hiring in of a tamper machine to pack the ballast under the sleepers and ensure that the rail head is level. Our ballast appeal is still open for those wishing to donate.
We are always on the lookout for new volunteers who fancy trying their hand at the numerous tasks that there are on a heritage railway. You don't need any prior experience and don't have to be super fit. If you would like to get involved or simply find out more then why not come down to the station at Midsomer Norton on a Sunday or Monday and have a look around
Brian Litherland 15th April 2019
Published By:
Somerset & Dorset Railway Heritage Trust 15th April, 2019