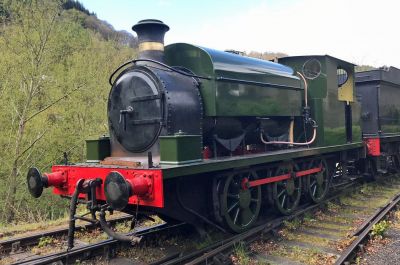 Llangollen Railway
Visiting Steam Loco Kitson 5459 "Austin 1" confirmed for summer events including July Gala
Kitson 5459 "Austin 1" is visiting us from the Llangollen Railway for the whole of July, August & September 2021.
5459's first appearance will be at our Mixed Traction Gala, where the loco will be on static display on Friday 2nd July and running on Saturday 3rd and Sunday 4th July - our first 3 day gala. Austin 1 will aslo feature at various other events during the summer.
Historical notes - this locomotive was built by Kitsons of Leeds as works number 5459 in 1932. It was delivered new to the Austin Motor Company at their Longbridge works in the West Midlands where it was known as Austin 1. The locomotive was purchased by Burtonwood Brewery in November 1973 on behalf of the Flint and Deeside Railway Society, and was stored behind the Nant Hotel in Prestatyn until the Society moved to Llangollen in 1975. The locomotive was named Burtonwood Brewer in honour of the brewery, who paid for restoration and fitting of vacuum brake gear required for working passenger trains.
All attractions subject to availability and COVID-19 regulations appertaining at time of event.
Published By:
Somerset & Dorset Railway Heritage Trust 18th May, 2021