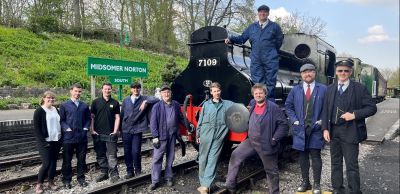 Chris Ruddick
Volunteers turn out to support Spring Gala
Over the 3 days from Friday 22nd to Sunday 24th April our happy volunteers welcomed many people to Midsomer Norton South for our Spring Gala. An intensive timetable across the 3 days meant that on some days we had 5 locomotives in action. This included the first passenger operations for our newly resident class 107 DMU. The different view of the line that the DMU affords was popular with all visitors. In addition demonstration freight trains were operated in between passenger trains. The work of the carriage and waggon volunteers was evident on both the immaculacy turned out freight set as well as the recently renovated Second Corridor (SK) coach.
Whilst the Friday was cold and overcast and the number one seller in the Railway Miniature Buffet (RMB) was the recent addition of a selection of hot soups, the weather improved for the weekend and the sun shone down on the station site and attracted a large number of passengers. Indeed the weather was so fine on the weekend that the RMB almost sold out of soft drinks, beer and cider. Visitors were able to enjoy the patio area and admire the well-kept station gardens that are tended by our award winning gardening team.
Special events and especially gala's offer a rare opportunity for the vast majority of volunteers to be working together on the same day. Utilising Joyce, Austin 1, the 03, the 08, the DMU and a 3 coach train meant that including driver's, firemen/second men, guards, signallers, trainees, cleaners and responsible officers more than 20 operationally qualified volunteers were needed to operate the trains. This was in addition to the platform, shop, buffet and museum volunteers. Almost 40 staff were needed each day and the dedicated volunteers turned out to help. With an age range of 16 – 84, there was a role for everyone.
We are always on the lookout for more volunteers to help us. There are a wide variety of jobs to be done in all of the departments on the railway, helping with practical work or behind the scenes roles. Relevant skills are useful but not essential and we do offer training for any work that requires it.
If you are interested in becoming a volunteer, then send an email with your details to [email protected] or visit the volunteer section of the website for more information of current vacancies. https://sdjr.co.uk/volunteering
Published By:
Somerset & Dorset Railway Heritage Trust 2nd May, 2022