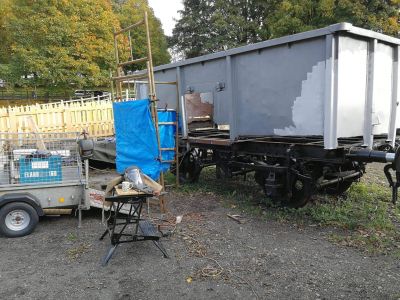 Barrie Papworth
Wagon Restoration Update 2 - October 2020
Thanks to all the people who have very generously donated to our 'Bringing home the Goods' appeal, the Trust has been able to order a large quantity of new steel sheets. A number of these have been pre-formed to replace the lower sides of the wagons, whilst others are flat plates. These will be cut and welded into place and replace those areas of the plate which was beyond repair and had to be cut away.
The steel sheets arrived on Thursday and work is focussing on welding into place a new L section on the side of the wagon. Onto this new L section, the side door hinges will be fixed.
This wagon has also received a top coat of grey paint.
We welcome all donations to our appeal, the Trust has recently obtained two more wagons to add to our growing wagon fleet and every donation, large or small assists. Donate here.
Published By:
Somerset & Dorset Railway Heritage Trust 16th October, 2020